Handmade Ceramics Ojai, California
WHERE CERAMICS MEET CEREMONIAL LIVING
"Rituals keep us from forgetting what must not be forgotten and keep us rooted in a past from which we must not be disconnected."
The Ojai Collection
Modern. Rustic. Bohemian.
The Pink Moment Collection
The Chief Peak Collection
The Valley of the Moon Collection
Where the shadow meets the light.
The Topa Topa Collection
Vibrant. Colorful. Contemporary.
Handcrafted
Each Mayware piece is designed and wheel-thrown with intention by local Ojai artist- Jeffrey Ryan May.
Locally Made
Mayware is a love story about a local artist, his creative wife, and their life in Ojai, California.
Durable
Designed to be well-loved and used daily, our pieces are microwave and dishwasher safe.
Intentional
We make beautiful pottery with care and intention for our people who love bringing art into everyday living.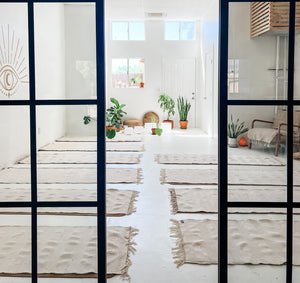 More than Ceramics
Introducing Ritual Studios, our Holistic Healing Arts + Conscious Retail Space dedicated to infusing mindful ritual into everyday living. Discover a haven where ancient wisdom meets modern-day healing modalities fostering mindfulness and spiritual awakening.
SHOP STUDIO SERVICES
Let's Set The Table
Express yourself when you entertain your guests with stunning, handmade dinnerware designed to last a lifetime.
The Complete Set
A collection for those of us who prefer to buy pre-bundled versus à la carte. Say goodbye to decison fatigue and let us pick for you.
Design For Any Vibe
Dramatic and moody, our Valley of the Moon Collection makes an excellent backdrop for the main course.
Live Your Life In Color
Our vibrant Topa Topa Collection is for those who love to express themselves through the joy of color.
The Real Modern Rustic
Where warm earth tones meet a rustic red clay body, you've got our signature Ojai Collection.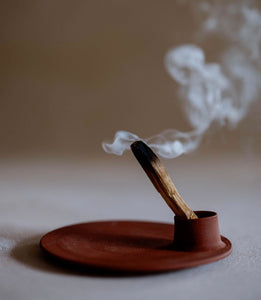 From Routine to Ritual
Welcome to our Ritual Goods Collection, a carefully curated selection of consciously sourced items designed to elevate the ritual experience in your daily life. Each item is thoughtfully chosen to help you infuse intention, mindfulness, and a deeper sense of connection into your everyday routines.
SHOP RITUAL GOODS
Stay Wild, Moon Child
We have a special love affair with the moon in Ojai, which is the inspriation for the Valley of the Moon Wall Hangers. Shine On.
The Heart of the Home
DECORATE YOUR KITCHEN WITH FUNCTIONAL DESIGN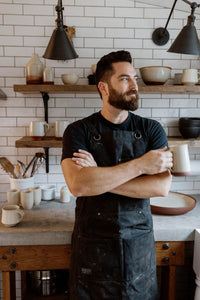 Meet the Maker
Ceramic Artist - Jeffrey Ryan May
Born and raised in the tranquil setting of Ojai, California, Jeffrey is a true native whose work embodies the conscious spirit of his hometown. His love for clay emerged in college, setting the stage for a passion-fueled journey into the craft. This path reached a pivotal point when he met Kali, fellow creative soul with an eye for design. Together, they co-founded Ritual Ceramics + Ritual Studios, a conscious endeavor that seamlessly blends the art of handmade ceramics with the ceremony of everyday living, inspiring others to fill their days with conscious ritual in place of mindless routines.
My Favorite Mug!

"There really is no other mug I would consider using since getting my hands on my Mayware Mug."

— 

Richard S.
Durable and made to last.

I've been using my Mayware bowls everyday for the last 7 years. They are still my favorite itIems I have in the cabinent."

— 

Amanda M.
The only gifts I buy.

"I've been buying Mayware for years! Each peice makes the perfect gift for birthdays or the holidays. All my friends love their Mayware gifts."

— 

Debbie S.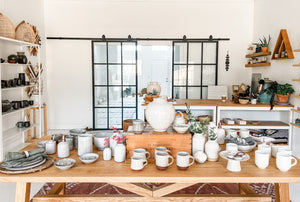 Come visit our Studio in Ojai, CA!
Ritual Ceramics Studio is now open in Ojai offering a Boutique Retail Experience, Somatic Breathwork, and Ceremony.
153 E El Roblar Drive
Learn more